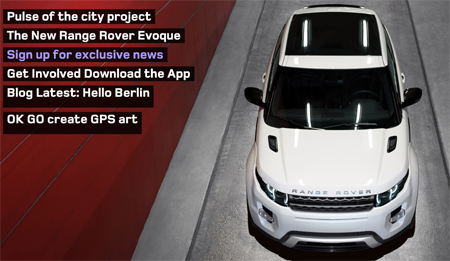 The car I drive originally catalysed all of this art through the Pulse of the City campaign, and continues to inspire it in other ways. When I am looking for an injection of creative energy, I usually go for a drive. Whether I want ideas for a painting, a strategy or a blog entry, they tend to arrive while I am driving. (I find it very difficult to think if I am not moving, whether it's on a treadmill at the gym or in a vehicle.)
So while Johannesburg is my muse, it is my car that provides the channel and the catalyst for me to access what creative powers I have. As I note in my email signature, nobody ever had a good idea sitting behind a desk.
I call my car my happy place. Perhaps rather obviously, it represents freedom, but it's also a space where I am both successful and in control.  A Range Rover codes for money and status in a city obsessed with both, and so when I drive it, my relationship with Johannesburg is different from the way it was when I drove the Polo I hired while going through my divorce, or the Sensible Korean Hatchback I drove before I became involved with Land Rover.
Music has also played an important role in the generation of this work. I have eclectic tastes, and adore everything from JS Bach to Radiohead and Sigur Ros. Certain tracks have taken on powerful associations in my personal narrative. Lucid Dreams by Franz Ferdinand will forever be associated with the hot Ayn Rand-loving shrink I met while going through my divorce, Sweet Disposition by The Temper Trap with a man who tried to seduce me using NLP. Coldplay's Viva La Vida is my September 2011 Loeries campaign in Cape Town; The Low Anthem's Oh my God, Charlie Darwin is the road to Hoedspruit from Timbavati.
My favourite tracks to drive to include Alive by Daft Punk (a great thumping base chakra track perfect for Joburg) and U2's Stuck in a Moment: You've got to get yourself together, you've got stuck in a moment and you can't get out of it.
Words I'd do well to live by.